Vu Cao Dam who was an outstandingly talented artist in Contemporary Vietnamese Sculpture left the world great artworks. He was born in 1908 in Vietnam and died in 2000 in France. He had many valuable paintings and sculptures hunted at international auctions.
Full name: Vu Cao Dam
Born in 1908 in Vu Ban district, Nam Dinh province.
Died in 2000 in Paris.
Artistic Style: Sculpture, silk painting, oil painting.
Outstanding artworks: Portraits, Girl Combing Hair, Girl with flowers, Thuy Kieu – Kim Trong, Mother and Child, Maternity, White Horse, Come Back Home, Illusion.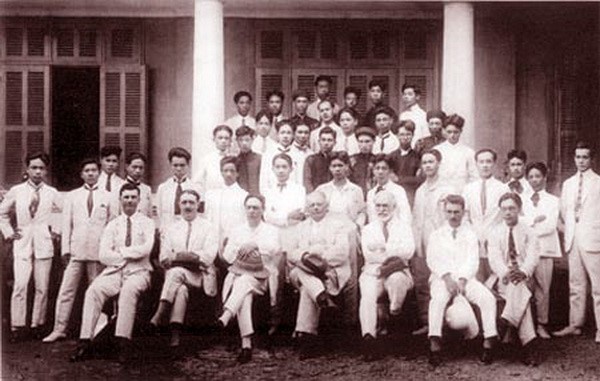 Vu Cao Dam was born in a revolutionary family; his elder brother was Doctor Vu Dinh Tung – Former Minister of Invalids; his younger brother was Pharmacist Vu Cong Thuyet – Former Deputy Minister of Heath of the Democratic Republic of Vietnam. Vu Cao Dam was a graduate of class 2 (class 1 of Department of Sculpture 1926-1931) of the Indochina Fine Arts College. Over the first period, he studied both painting and sculpture but he entirely concentrated on sculpture in his second school year. He said that: "Victor Tardieu (the first principal of the Indochina Fine Arts College) discovered my talent for sculpture and complimented on my father's bust which I sculpted. Therefore, in the second school year, I fully concentrated on the sculpture that greatly interested me and I majored in portraiture afterward".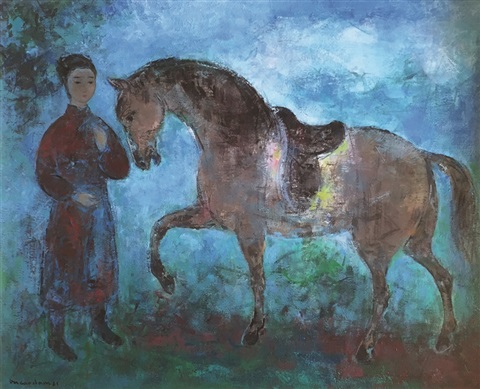 In 1931, Vu Cao Dam graduated from the Indochina Fine Arts College with excellent result. He won a scholarship to France to study and broaden his knowledge of visual arts at the Louvre Museum. After that, his friends (Le Pho, Mai Trung Thu and Le Thi Luu) also went to Paris and became erudite students of France – Vietnam University of Fine Arts (Paris).
In 1938, Vu Cao Dam married the French pianist Renee. During World War II (1939-1945), it was hard to sculpt a bust because when France was under German occupation, copper items were confiscated for weaponization and bronze casting was prohibited. Vu Cao Dam had to sculpt the busts with terracotta and then polished them (portraits of Poet Jean Tardieu (Victor Tardieu's son) and his wife). Due to the difficulties, he decided to change portraiture for painting. He worked on silk painting and then oil painting. He chose oil painting on account of both his passion for knowledge and the inconvenience of preserving silk paintings. He said: "Silk paintings have limited size because the silk is covered by a pane of glass, hence, the painter cannot do a large painting."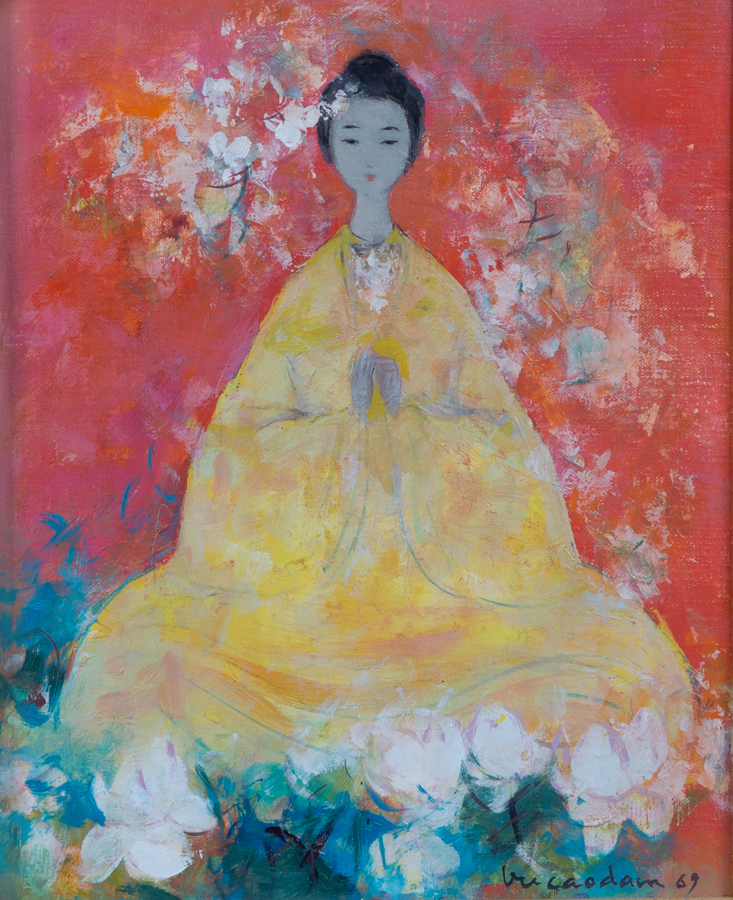 When Vu Cao Dam lived in France, his artworks based on the harmony between the Eastern-Western concept and the theme of Vietnam marked a striking place in the international market. For example, in 1940, the French government bought 3 paintings from Vu Cao Dam including 2 silk paintings Portrait of Hanoian (1939), Annam's woman (1939) and sculpture Indochina People which was displayed at André Diligent de Roubaix Museum. His paintings were strongly influenced by the art of Southern France – the heyday of Impressionism. Many of his sculptures were considered as the epitome of contemporary Vietnamese sculpture including 2 statues (Portrait and Girl Combing Hair) conserved at the Vietnam Fine Arts Museum. Many painters and architects created plaster editions of these statues and they could be seen at any classes in painting or sculpture. Being a sculpture, Vu Cao Dam learned a lot from the artworks of Rodin, Despiau, Giacometti, Picasso and Duchamp. He demonstrated his talent for executing busts. During the period between 1926 and 1931, he made plenty of sculptures such as Yong Woman's Head (copper, 1927), Rural Girl (copper, 1927) and Vu Dinh Thi's Bust (copper, 1927). Vu Cao Dam and Le Pho had paintings fetched high prices for a long time among the artists living abroad. Due to his artworks in the harmony between traditional Eastern arts and Western fine arts, he and other painters (Le Pho, Mai Trung Thu, Le Thi Luu) made significant contributions to strengthen Vietnamese artists' position compared to overseas ones'.
In 1946, when President Ho Chi Minh visited France, Vu Cao Dan came to greet him and asked to mold his bust. In 1998, Vu Cao Dam's family offered Ho Chi Minh Museum this artwork. 2 years later, Vu Cao Dam passed away. Perhaps he was serene as he fully expressed his patriotism before his death in a foreign country.