Artist Nguyen Thu Thuy – Artworks & Art Career – Nguyen Art Gallery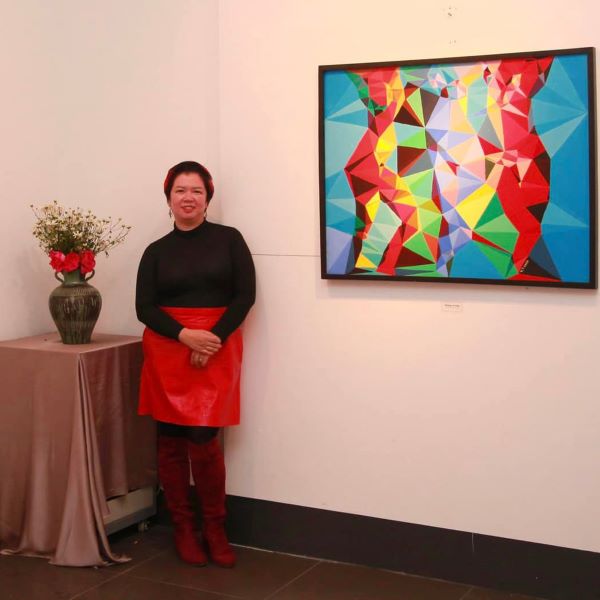 Artist Nguyen Thu Thuy was born in 1977 in Hanoi, Vietnam. She is a person with respectable artistic activities. Currently, she is a lecturer at the Faculty of Tourism at the University of Social Sciences and Humanities of Vietnam National University in Hanoi. In addition, she is the founder and CEO of Artsilk. Besides, she is also a member of the Vietnam Fine Arts Association.
"Learning literature and drawing in childhood. Teaching and traveling at youth, painting and creating ceramics at present" – Artist Nguyen Thu Thuy shared.
Exhibitions & Art Events
9/2019: Exhibition of Applied Arts, Graphics and Sculpture Area 1, Vietnam Fine Arts Association, 16 Ngo Quyen, Hanoi
10/2019: Euro Americana International Visual Arts Exhibition 2019, Cusco, Peru
11/2019: International Art Exchange Exhibition, National Exhibition Center Tokyo, Japan
11/2019: Exhibition VIETARTNOW typical faces 2019, Cho Au Auction House, 63 Ham Long, Hanoi
12/2019: Exhibition to celebrate the 9th Congress of the Vietnam Fine Arts Association, 16 Ngo Quyen, Hanoi
1/2020: Exhibition to celebrate the Party, celebrate the Lunar New Year of the Vietnam Fine Arts Association, 16 Ngo Quyen, Hanoi
3/2020: Time Color Exhibition, Women Authors Club, Vietnam Fine Arts Association, 16 Ngo Quyen, Hanoi, Vietnam
5/2020: International Exhibition of anti-coronavirus prevention posters, Zhejiang Artists Association, China
5/2020: Homeland Colors Exhibition, Club for National Defense Construction, Vietnam Fine Arts Association, 16 Ngo Quyen, Hanoi, Vietnam
6/2020: Exhibition of exclusive prints of Emotions in June, Vietnam Fine Arts Association, 16 Ngo Quyen, Hanoi, Vietnam
12/2021: Solo exhibition "Merging Memories" in Hanoi
Highlight Artworks of Nguyen Thu Thuy
Nguyen Thu Thuy
Size: 130cm*90cm | 51.2 inches*35.4 inches
Material: Acrylic on Canvas
Nguyen Thu Thuy
Size: 110cm*90cm | 43.3 inches*35.4 inches
Material: Acrylic on Canvas
Nguyen Thu Thuy
Size: 38cm*64cm | 15inches*25 inches
Material: Exclusive printed painting