Artist Ngo Duc Hoang – Vietnamese Lacquer Oil & Acrylic on Canvas – Nguyen Art Gallery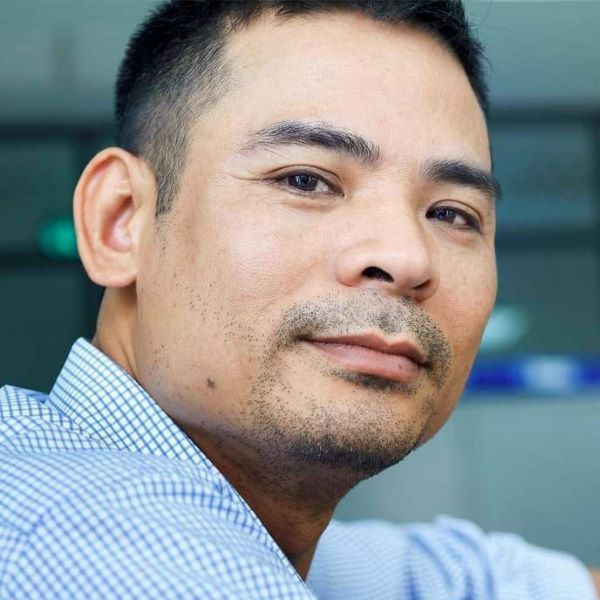 Artist Ngo Duc Hoang was born in 1974 in Hanoi, Vietnam. He graduated from the Fine Arts Department – The Vietnam State Film University.
"One can easily feel Hoang's love for the Kinh Bac culture, especially for the beauty inherent in the Quan Ho traditions as well as ethnic practices prevalent in the Northern mountainous areas. In his paintings, space seems to be overflowing defined only by earthy color blocks that give prominence to the symbolic figures – the colors reminding us of those primarily used in Dong Ho folk paintings.
His characteristic symbols, standing out in the color block, reveal more than just a touch of influence from the traditional Vietnamese plastic arts – using figures to express meanings. At times, Hoang's coloring is smooth and unbroken bearing much likeness to that of the Dong Ho folk paintings, at other times, his bold blends of different shades create a richness in texture that reminds one of the coloring methods seen in Hang Trong folk paintings.
In a nutshell, Ngo Duc Hoang has succeeded in establishing his own style in which decorative factors are featured in harmony with plastic art elements – a beautiful blend of tradition and modernity that portrays today's perception of beauty." said by art critic Le Quoc Bao
Exhibitions & Art Events
1996: The Propaganda Poster Exhibition of Appealing Humanity Blood Donation, Hanoi
1997: The Hanoi Capital Fine Arts Exhibition, Hanoi
1998-2001: The Asian Fine Arts Exhibition, Hanoi
2001: Group Exhibition "April's Colours" in Opera Gallery, Hanoi
2001: First solo Exhibition "Shades of Springtime" in Hilton Hanoi Opera
2001 & 2005: The World's Premier Contemporary ASIAN ART Exhibition in Singapore
2006: Group Exhibition "The International Arts In Yongin City" in South Korea
2009: Second Solo Exhibition: "Den Hen Lai Len" in Hanoi Daewoo Hotel
2010: Exhibition "Summer Time" with artist Nguyen Chau Minh at 16 Ngo Quyen Street, Hanoi
2012: Group Exhibition "Hanoi's autumn colors shine in Saigon" at the Ho Chi Minh City Museum of Fine Arts
2014: Group Exhibition "The Essence of Abstraction" in Agora Gallery, New York, the USA
2016: Solo Exhibition "Les Enchantresses" in Sofitel Plaza, Hanoi
2017: Group Exhibition "Human Right H20" in Rovereto Trento, Italy
Highlight Artworks of Ngo Duc Hoang