Artist Do Khai | Vietnamese Lacquer Paintings & Art Career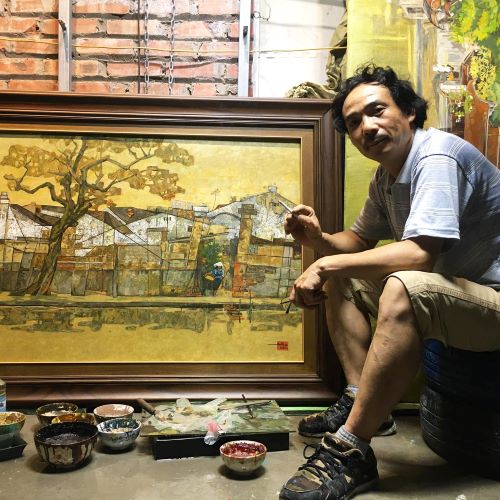 Artist Do Khai (or Do Duc Khai) was born in 1969 in Northern Vietnam. He graduated Painting degree from the Vietnam University of Fine Arts in 2000. In addition, he used to be an Art teacher and worked at the Central Office of the Vietnam Fine Arts Association. Do Khai is also a member of the Vietnam Fine Arts Association and a member of the Board of Directors of the Son Ta Club. He specializes in painting with lacquer and using traditional lacquer called Son ta. His artworks have been collected by the Vietnam Fine Arts Association, the Vietnam Military History Museum, Da Nang Fine Arts Museum as well as a lot of individual collectors all over the world.
Most of his Vietnamese artworks with the theme of lotus are painted directly by artist Do Khai at Gia Lam lotus pond. His lacquer paintings of lotus are varied and illusory. His lotus is mainly white, pink, blue, and gray – White for lotus flowers, Green for lotus leaves, and Gray for dying leaves. At first glance, viewers think that the artist uses few colors, but when looking closely, each painting is a "symphony" of colors.
Prizes
Second Prize in the National Fine Arts Exhibition celebrating 1,000 years of Thang Long – Hanoi in 2010
4 Awards of the Vietnam Fine Arts Association
3 Awards of the Hanoi Fine Arts Association
2 Awards of the Ministry of National Defense of Vietnam
1 Award from the Ministry of Culture, Sports, and Tourism
2 Awards of the Vietnam Central Propaganda Department
3 Awards of the Vietnam Union of Literary and Art Associations
Exhibitions & Art Events
2009: National Fine Arts Exhibition in Vietnam
2010: the National Fine Arts Exhibition celebrating 1,000 years of Thang Long – Hanoi
2012: Biennale International Art the 5th in Beijing, China
2014: Group Exhibition "Long Bien Bridge – The Bridge of Art" at Heritage Space in Hanoi
2014: Group Exhibition of 6 Artist with the Last Name of Do
2015: Biennale International Art the 6th in Beijing, China
2015: Group Exhibition "Vietnamese Lacquer – Ottchil South Korea" at the Vietnam Fine Arts Museum
2019: Exhibition of Lacquer Artists in Beijing China
2020: Exhibition of Son Ta Lacquer Club the 5th in Hanoi
Highlight Artworks of Do Khai