Artist Le Kuan – Artworks & Art Career – Exclusive on Nguyen Art Gallery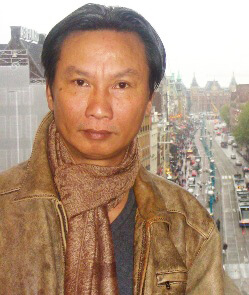 Artist Le Kuan was born in 1955, in Hai Duong province, northern Vietnam. He is the chairman of the board of 14 companies operating in different fields such as paint making (Joton), rubber making, film making, shipping, event organization, investing in a TV channel. music picture……. Le Kuan is a multi-talented person, from writing poetry to making music. In particular, he is also a self-taught artist, coming to painting 16 years ago, he has achieved much success in the painting market.
He learned to draw from a basic guidebook by the late artist Nguyen Van Ty when he was a 4th grader. He won the provincial children's picture award, was passionate about drawing while he was in the US army (having lived in the US) Quang Tri front), and painted while studying in Bulgaria. He used to paint in the streets, as a European Sunday artist.
In 2010, Le Kuan was invited to organize 5 painting exhibitions in Hong Kong, Macau, the UK, and France. On July 19, 2010, the Exhibition Information Center 45 Trang Tien (Hanoi) opened an exhibition of paintings by painter Le Kuan titled "Color Melodies." He is a person who quickly gets bored of the old, in business to survive, and in part to play, Le Kuan is always looking for new things, looking for something to stimulate adventure and discovery.
Highlight Artworks of Le Kuan