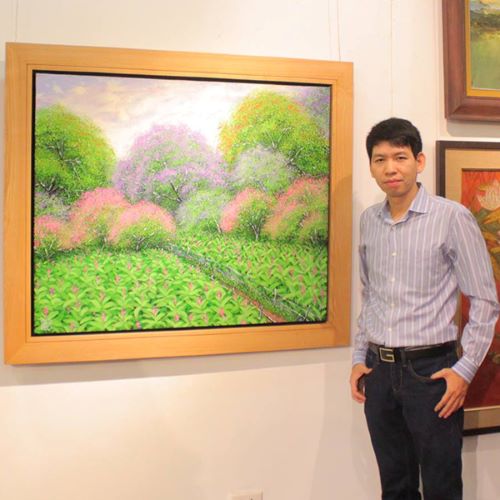 Artist Nguyen Lam was born in 1975 and currently lives and works in Hanoi, Vietnam. In 2000, he graduated from the Hanoi University of Industrial Fine Arts. He is currently a member of UNESCO's Art Center in Hanoi. Nguyen Lam has a knack for oil and acrylic paints.
Regarding the works of artist Nguyen Lam, American art critic Dr. James Moras commented: "Nguyen Lam's artworks have unique blends with the classical French art style - Fauve of the early 20th century."
"Life is short, but art is long" - that is the motivation for Nguyen Lam to put in his artworks endless passion and inspiration.
He also shared those world-famous artists such as Van Gogh, Picasso, and Henri Matisse having left a lot of imprints and influences in his art creation process.
The artworks of artist Nguyen Lam are in many art collections in the US, UK, France, Germany, Belgium, Singapore, Japan, Korea, and Hong Kong.
Exhibitions & Art Events
2018: Group exhibition "May" at Vietnam Fine Art Museum
2016: 5th exhibition of Hanoi UNESCO Fine Art Center
2015: Exhibition of Hanoi UNESCO Fine Art Center "Colors of Hanoi"
2015: Exhibition in Dubai Art Fair
2015: Solo exhibition "Four seasons" at Sheraton Hotel in Hanoi
2014: Exhibition "What does the artist do" in Hanoi
2013: Exhibition "What does the artist think" in Hanoi
2012: Exhibition "Hanoi - Journeys of Love" at Grand Plaza in Hanoi
2012: Exhibition "Island and Homeland" in Hanoi
2011: Exhibition of UNESCO at Vietnam Fine Art Museum
2010: Exhibition "1000 years of Thang long - Hanoi"
2009: Exhibition "The Festival of Arts Long Bien"
2009: Exhibition of young artist club "The Same Color" in Hanoi
2008: Exhibition "The Red Summer" in Halong Bay
2007: Exhibition of young artist club "On the Floor" in Hanoi
Publications
2016: New winds contemporary artists from Vietnam. Published in Italy
2011: Young contemporary Vietnamese painters. Published in Vietnam
2011: Vietnamese sculptures paintings. Published in Vietnam
2011: "Hoi Tu" - Convergence - Published in Vietnam
2009: Fauve Painters in Old Hanoi. Published in the USA
2008: Along the DMZ in Vietnam. Published in the USA
2008: The War Relics of Vietnam. Published in the USA
2007: Dien Bien Phu: A Battlefield History. Published in the USA
2006: Fauvism and the Atr of Hanoi. Published in the USA