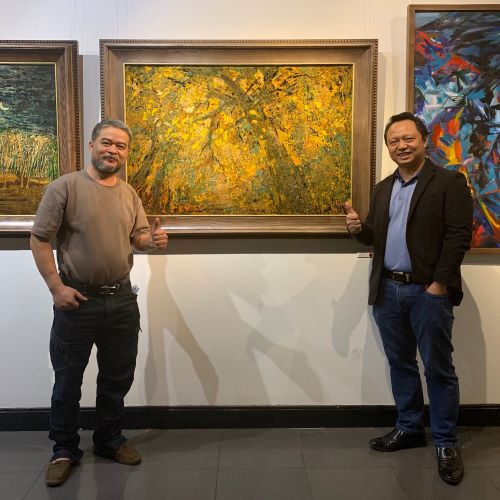 Artist Truong Trong Quyen was born in 1974 in Vietnam and currently lives and works in Hanoi.
In 2004, he graduated from Vietnam University of Fine Arts, majoring in Art Pedagogy.
Truong Trong Quyen once shared: "Nostalgia, romance, love of wild beauty, simplicity are the inspirations to create my artworks."
He also once confided, "With the use of lacquer material and my own techniques, I want to give viewers a romantic view of nature and the landscape that I feel when composing. With the tricks in the process of artistic work, I also wish to bring a little inspiration about my own colors in the present moment to create more liberal and flying artworks."
The Vietnamese experienced artist Ngo Thanh Nhan commented on Truong Trong Quyen at the group exhibition "An Hien" (Hide & Show) in 2021: "Truong Trong Quyen is really passionate about his lacquer material. With his strong brushstrokes, he has depicted the sudden vibrations in the moment of changing seasons filled with nostalgia..."
Exhibitions & Art Events
2017: Vietnamese - South Korean Exhibition "Spring"
2017: Exhibition "Dao Phap" - Religion
2018: Vietnamese - South Korean Exhibition
2019: Group Exhibition "36+"
2021: Exhibition "Net Xua" - Old Features
2021: Group Exhibition "An Hien" - Hide & Show