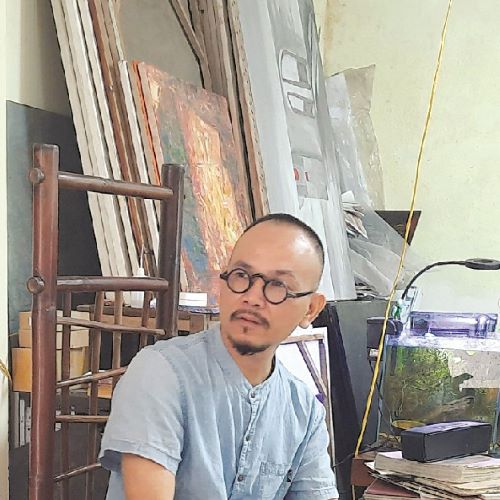 Artist Luong Duy was born in 1972. He graduated from the Faculty of Monumental Painting at the University of Industrial Fine Arts in Vietnam in 1998.
Pursuing an abstract painting style with lacquer materials, the works of painter Luong Duy bring viewers into a space of contemplation, his meditation is quiet, and in which there is both the past and the present. , the future of human life...
Taking advantage of the depths of lacquer, painter Luong Duy evokes meditative, meditative spaces, looking at the paintings, as if facing the gap of blue - red - gray ... immense, endless. The artist said that space is thought, recollection, sound, meditation, not existence. In the space expressing the vastness, it is cleverly "labeled", with the technique of conjuring the figure of a character holding his knees, holding his head as if he is immersed in thought.
Creating something that does not exist, but is very specific with only colors and spatial layout… Painter Luong Duy said: "The depth of attraction in some works are the emotional states that I want to express, show the vanity - the reality of space, of society. I take multi-layer space as the background, layout on it feelings, emotions, both real and false, as a connection between echoes of the past, present life, and future thinking."