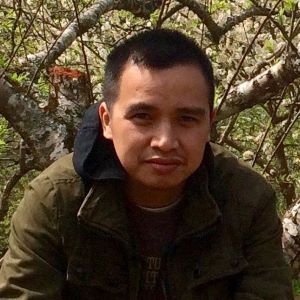 Artist Nguyen Tuan Cuong was born in 1978 in Hanoi, Vietnam. He graduated from Hanoi University of Industrial Fine Arts in 2001 majoring in lacquer painting. Later, he became a member of the Hanoi Fine Arts Association as well as the Vietnam Fine Arts Association. His artworks mainly use lacquer materials and are always highly appreciated by art experts and lovers.
Art Ideas of Nguyen Tuan Cuong
"The dark space in the ancient temples made a strong impression on me. Every color is tinged with black. The gentle, mysterious light seems to emerge from the golden Buddha statues covered with the brown color of traditional oil. The brown of cockroach paint, ancient wood, black, and moss green are the colors that have spiritual qualities and dominate the life of the Vietnamese in the past.
My lacquer paintings focus on exploiting the expressive spirit in the wonderful surface experience of Vietnamese lacquer such as lipstick, gold, silver... That is more important than improving traditional techniques. These factors influence and are the main ideas in my lacquer artworks. In the process of exploiting the dialogue in silence, I feel the object floating in space, like a fleeting illusion in the flow of time."
Exhibitions & Art Events
1999: Group Exhibition of Students at Hanoi University of Industrial Arts in Vietnam
2000: Group Exhibition of 990 years of Thang Long - Hanoi, in Vietnam
2003: Group Exhibition of Ha Tay (consolation prize) in Vietnam
2006: Exhibition of Applied Art in Vietnam
2008: Group Exhibition of Gallery Red River in the UK
2009: Exhibition of Club of Young Artists in Vietnam
2012: Exhibition "Sea and Island" in Hanoi, Vietnam
2013: Exhibition "Group 12" at the gallery of Vietnam Fine Arts Association in Hanoi
2013: Exhibition "Hometown" at Ami Gallery, Hanoi, Vietnam
2014: Group Exhibition of Artists of Son Ta (traditional paintings lacquer) at Vietnamese Fine Arts Museum
2014: Exhibition "Year" at South Korean Cultural Center in Hanoi, Vietnam
2015: Exhibition "Vietnamese Lacquer Paintings" in Seoul, South Korean
2015: Capital Exhibition in Hanoi, Vietnam
2016: Group Exhibition of 3 Vietnamese Artists at Nguyen Art Gallery in Hanoi, Vietnam
2016: Exhibition "The Story of Lacquer" in Hanoi, Vietnam
2016: Exhibition "Paint One Another, Know One Another" in Beijing, China
2017: Exhibition Galerie la Primaire in Geneve, Switzerland
2017: Exhibition "North Lacquer" in Ho Chi Minh City, Vietnam
2018: Exhibition "Son Ta - Vietnamese Lacquer" in Hanoi, Vietnam
2018: Asia-Pacific Exhibition in Nanjing, China
2018: Exhibition "Blue" at Vietnam Fine Arts University
2019: Exhibition at Galerie Madeleine in Paris, France
2019: Exhibition "Asian Lacquer Art" in Taiwan
2019: Exhibition "Truong Ca" in Kaohsiung, Taiwan
2020: Group Exhibition of Son Ta Artists in Hanoi, Vietnam
2021: Solo Exhibition "Fragments of Nostalgia" in Hanoi, Vietnam
2022: Group Exhibition "Lacquer Paths" in Hanoi, Vietnam