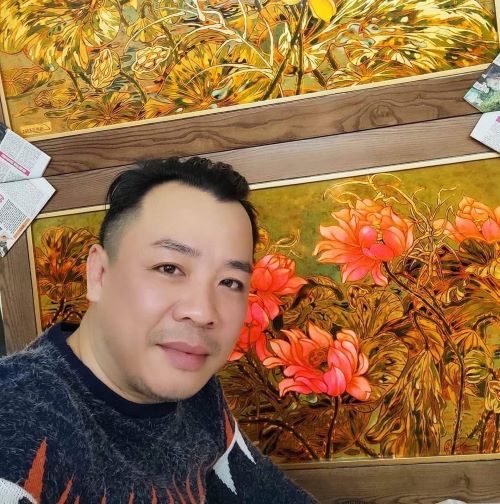 Nguyen Hong Giang was born in 1980 in Hanoi. He graduated from the Vietnam University of Fine Arts with a bachelor's degree and a master's degree in Fine Arts in 2013.
The first line of paintings selected by Hong Giang is an oil painting with the theme of human life. In 2015, he participated in the National Fine Arts Exhibition with 1 oil painting on canvas.
In early 2016, he started to try his hand at Lacquer line with paintings depicting Hanoi Streets. And since then, 36 Hanoi streets and elegant Hanoians gradually appear over time in Hong Giang's paintings. At first, the street was still very rustic, with simple drawings and gentle colors like the artist himself.
With lacquer material, Hong Giang also composed more themes about flowers, especially about lotus. "My paintings are ordered by collectors, so I don't sell them in the Gallery...". To wait for a painting by Hong Giang, collectors need to wait from 1 to 3 months to receive extremely quality artworks.
Recognizing that Hong Giang is an extremely serious artist, he prunes every detail for his paintings day and night. From idea to sketch, the minimum time is 2 weeks. Nguyen Art Gallery has been proudly accompanying him for many years and has become a bridge between artists and domestic and international collectors.
As Auguste Rodin said, "The artist must create a spark before he can light a fire, and before art is born, the artist must be ready to let his own creative fire consume him." And Nguyen Hong Giang created his own spark and the flame of passion for painting seemed to have "swallowed" him.